From: Orion Williams
Adobe Certified Expert, Photoshop CS2

July 27, 2007
11:27 PM
Dear Photoshop Friend,
If you're reading this, you probably have some images or photos that you would like to restore or fix up so that they look more like the original. Many of us have precious photos of ancestors where the images could be 100 years old or more. The problem is; how on earth can we make bring them back to life and make them look more like the original images?
Well, if you have Photoshop, you know that it has the ability to do it...but do you? Are you still looking at an image and not knowing where to start on making it look A LOT better? These are surely important images that you would like to repair and restore.
I'm here to tell you that, YES you can be restoring your photos in less than 2 hours with Photoshop, whether they just need general touchup's, enhancements or are badly damaged. Keep reading to find out how you can make your treasured, yet much less than perfect images look drastically improved by using Adobe Photoshop..
▪ I have trained 10,000's of Photoshop user's worldwide with my online Photoshop tutorials, Photoshop websites and supplemental training products with great customer service and lots of testimonials.
▪ I have been to 3 PhotoshopWorld Conferences and am a member of NAPP (National Association of Photoshop Professionals). I've been featured on top tutorials websites and others including
▪ I am an Adobe Certified Expert for Photoshop CS2.
▪ I am also a professional graphic designer who leads by example and has spent 1,000's of hours in Photoshop- it's what I do.

I know what it's like to want to be able to see the best original image possible because I remember recently looking through my grandmother's pictures of when she was a teenager. And I remember noting the image quality and I know that I could improve each and every one of the photos.
Because of the imaging technology available in the early 1900's added with the passage of time, photographs will get cracked, spotted, severely faded and worse. No doubt you are a likely sufferer of such a pandemic. There's nothing like the satisfaction of repairing an image for an old loved one and seeing the look on their face.
My mother came to me for help with restoring the photos of my grandparents because she knows I am an expert at Photoshop. But instead of just showing one person how to do it, I realized that this is a big subject out there because there are millions of people who want to restore old photographs without having to pay an expensive photo restoration service (any, who by the way use Photoshop).
Because of this concern of not only me wanting to see my best possible ancestor photographs, but many people in the U.S. and around the world wanting to restore old photos (or even just recent ones that need adjusting) specifically with Photoshop, I decided to create a training program to help them (you!) take advantage of Photoshop's powerful tools and techniques to empower image restoration and bring damaged images back to life.
"...I have been learning to restore old family photos to go with my genealogy research. Your lessons have been amazing! By learning to use the Lasso, and other selection tools properly, as well as the Healing brush, Layer Effects and Masking, I am able to bring my ancestors back to "life" through their photographs to preserve them for generations to come. I would have never believed that I could have done anything like this in Photoshop- never thought I was smart enough! You have taught me well, and I will always draw upon that knowledge as I get better and better!!!...."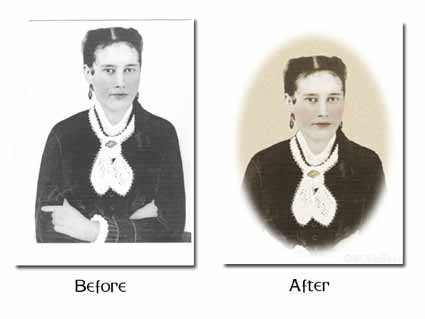 ...This is my second entry, as you see, I am continuing to restore and improve damaged and faded photographs. Some that are over 100 years old now look like they were made yesterday! I cannot tell you how much it means to me to see the faces come alive, and only through your wonderful lessons and teaching was I able to do it.
Thanks so much from the bottom of my heart!" -Wendy Madison wsmadison@bellsouth.net
It's not as hard as you think to restore old or damaged images when you have a powerful tool such as Adobe Photoshop CS AND when you have the proper knowledge to take advantage of the tools to be able to (depending on the image) create entire fix-up's within minutes (sometimes seconds!). Part of the problem is that I didn't see many options out there on the market for actually learning photo restoration with Photoshop.
Because I inherently know how to use Photoshop's tools as a Photoshop Certified Expert (and because the pictures my mom did have on hand of our family history weren't damaged 'enough') I decided to collect photos from students whose images REALLY needed some work done on them. I figured, this way I would allow you to get an entire look at the spectrum of techniques and tools to use in Photoshop (because certain images need it) in order to restore a 'desperately seeking susan' photo.
So, I created my Image Restoration & Curves Photoshop training DVD. It's got 2 hours of Photoshop video tutorials training on images from the 'worst of the worst' portraits to ones that just need localized adjustments (such as an underexposed wedding couples).
With this Image Restoration Photoshop video training you'll be able to restore your damaged or 'lacking' images using practically every Photoshop technique in the book from basic to advanced (healing brush to custom curves color channels) in less than 2 hours.
"I was not going to get into the restoration portion of the photo biz but after taking the tutorial I had the opportunity to work on some friend's photos and they were astounded with what I could do. I have since decided to create a section on my website for this service. Why pass up the chance to make more money when it is so simple after following to tutorials? Thanks Orion, some of the best money I have spent since going into business for myself."
-Shawn Traman, Photographer (and Photo Restorer) www.mirage-photo.com
Whether you want to restore images on your own OR restore images for other people (and earn an income from it) this training is guaranteed to help get you there and FAST. There is no need to let the level of photo damage hold you in fear in thinking, '''how can I even start restoring this image?'''.
Spend your time restoring photos with Photoshop with this training instead of spending your time fooling around with the tools or thinking how to go effectively about it. Relax...the expert is here; I'm in the house to help you repair just about ANY image you may have...
Black & White Faded Restoration
To work on a really grayed out image like this, your normal auto correction options are just not enough.

Make a small marquee selection an area which represents (or should represent) a fair amount of contrast.


Now go to your pop up menu and choose Curves.


Now click on Options to get to the super duper powered auto color correction dialog box.
Since you made a selection, the rest of the adjustment layer is masked so therefore, not visible.

You will notice automatically an increase in the contrast. When working on images that are black and white but scanned in RGB mode, then you can use Enhance per channel contrast to give a little more of an edginess than what would normally be there in grayscale mode. This is enhancing the contrast independently in each of the channels to result in a more vibrant effect. Press OK for now and now choose a brush tool.
Since you made a selection first the adjustment only applied to that selected area, but it is still there, it's just masked. To reveal the same adjustment to apply to other parts of the image (layer beneath) use your brush
with white as the foreground color to paint 'in' the adjustment layer mask to areas that you want to be affected by the adjustment.

Go ahead and paint in some more of the adjustment layer with the white brush to reveal the adjustment layer.
Now you can go ahead and keep working on lightening areas that are too dark because of the increase in contrast. To do that, grab a black brush to go over areas that are too dark because of the adjustment (on the adjustment layer mask) to hide the effect of the adjustment and bring back the original 'lighter' version of the dark areas which were OK with the original.
You can also switch to darker shades of grey to hide most of the adjustment layer effect right above that point (after you have brought the image visible under a white brush to reveal the adjustment).
The fastest way when you're on the adjustment layer mask to have it apply to the entire layer beneath and visibly is to Alt Backspace or go to Edit: Fill and then choose foreground or background (depending which one you have as white).
You can carefully bring back the detail to darkened areas once again, by using the brush on a dark gray or black to hide the adjustment layer's high contrast effect and bring back the original lightness to darker areas to help balance the image out.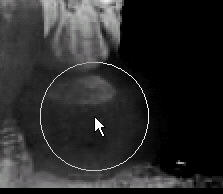 Remember that pure black will completely hide any of the adjustment using the brush. Darker shades of gray will mostly hide it and whiter will reveal more of the adjustment. I teach this concept extensively in my Basic Photoshop training.
It's important to balance out the image here so that the dresses or dark dark's are not too dark. But the image definitely needed the correction we did.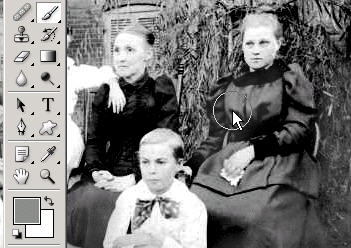 Here is a rubylith view ( \ ) of the areas that I've masked on the adjustment layer which will allow the original pixels below to show through, creating the lighter effect on the darker areas.
Here is the before and after of what I've done so far.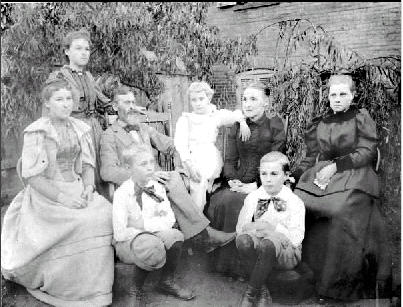 You can make some more improvements to it by creating a new Curves adjustment layer.
If the areas that are supposed to be white are still a little to grey or washed out you can increased their contrast (pretty much alone) by using the method I teach in the photo restoration video training of alt clicking on an area to get your source point on the curves graph and either entering the output curve of the area that you want it to be or nudging it up a little.
Here I've created two different source points to increase the contrast of the whites.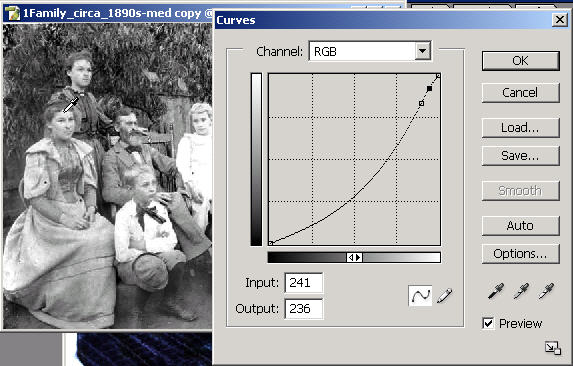 ....that was a little sample of some of the training you can expect
By the way, almost any image (99.8%) can get an improvement in Photoshop with the right tools and user (you). Many images you thought that would have no hope, you will be proud to give it back to that special loved one in it's original condition ;)
In this Photo Restoration Photoshop training I focus specifically on image enhancement and photo restoration techniques using Adobe Photoshop CS' powerful tools and exploring several real-world practical examples step by step in real-time so you'll be able to understand how to use the tools (and in which circumstances) to start restoring immediately with more results than you've ever seen before. All you need is a dvd player and Photoshop 7 or CS.
Here are a few benefits that you will learn with the TutorialKey: Image Restoration & Curves DVD:
● Knowing what Photoshop tools to use (and HOW to use them for each circumstance) - Photoshop has many tools but there are a few there are specifically used and that you MUST work on mastering to really be effective in restoring images. I teach you all of the different tools including which ways to use them so you don't waste hours of your time on a single image.
● How to make localized or custom adjustments - I use several modern-day wedding photographs in these examples. You will learn how to make up for a photograph where there wasn't a flash (for example) and correcting underexposure (areas that are darker than they should be). You will be able to create the effect of a fill flash and highlight just the focal point (such as the wedding couple) so it is properly exposed and lit without affecting the rest of the background. A MUST FOR ALL PHOTOGRAPHERS.
● Understand & finally know how to use Curves adjustment effectively - Yes, there is a purpose for Curves and it is a powerful tool in your photo restoration arsenal. It has the power to do the most restoration so now you don't have to leave it alone. Learn how to fix images (radically improve them) with Photoshop curves and even use it for balancing or increasing contrast of a specific color channel.
● Restore massively damaged images - Scratches, rips, tears, blotches, fading....Understand how to use the different nuances of the many tools, starting out with the most obvious one to make the most headway in repairing any image.
● Fix 'off color' photos - Learn several different ways to not only fix color but balance color differences within the same image using layer masks on different adjustment layers. I will also teach you how to use adjustment layer masks with the brush tool & color palette to hide where you don't want your adjustment to show and where you want to retain the improvement (such as an increase in contrast).
● Match Color & Shadow/Highlight tool - Of course I cover these (and also Levels and the Histogram) so you understand what they do and know how to use them.
● Understand how to use Levels & Histogram - so you can analyze and interpret the luminance of any image and where it will need adjustments.
● Save time & have maximum flexibility with adjustment layers - Use adjustment layers effectively in image enhancement / restoration (from basic to advanced levels) so you can preserve the original pixels of the image and come back to make any change of the adjustment you want (instantly disposable too) without having to back in history and start over.
....and much more with 2 hours of pure Image Restoration, enhancement & repair Photoshop tutorials training! I don't just cover the basics (everyone knows the healing brush is there); I go into the advanced strategies of more Photoshop restoration tools, having a game plan, and combining tools and techniques to make the most of your image restoring time for the fastest, yet most "true to original" results.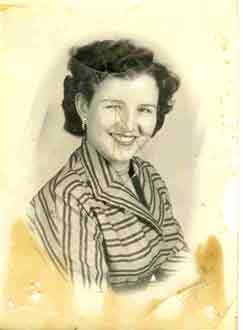 "in the past I would spend hours trying to fix pics, I just fixed this one in 10 minutes by watching your (Photoshop) CS (Bonus) cd." --john kline
Take the Free Quiz and test your knowledge of Photo restoration by clicking here.
In this Photoshop restoration training you are going to receive everything I cover in my Basic Photoshop training (no restoration * the tools) and MUCH more because I focus specifically on Image restoration and photo enhancement. I cover many different practical examples of images on different levels of neediness without rushing through them so you get the full range (& treatment) of understanding the Photoshop workflow of what tools to use and how to use them.
Good photo restoration does take time if you have heavily damaged images but I show you how to make the best use of that time to make it as minimal as possible WITH the fastest and most effective results possible. I give you the tools you need to restore any of your (damaged or lacking) images. Once you watch these Photoshop video tutorials you'll be able to immediately start using the different Photoshop tools to repair photos and GET RESULTS.
Restoring one important photo to you can absolutely be worth the small investment. But the skills you gain, will allow you to not only be more diverse as a Photoshop user but allow you to restore any of your (or your client's) photos to a much faster and more professional degree.
For a small investment of $24.95 you can have this intermediate-advanced Image Restoration & Curves DVD training.
I think that's definitely a fair price considering the amount of lifelong digital imaging skills you will have to be able to restore any image in Photoshop and bring tremendous self-satisfaction and gift-giving to your loved ones by restoring the memories of who they were and are.
Just to make this an even more valuable offer for you; for a limited time only, I'm going to throw in the instantly available Bonus Items. If they are listed right now you can receive them when you order right now, otherwise I can't guarantee that you'll ever receive the bonuses. Take a look at what else you can receive when you order your Image Restoration Photoshop video tutorials right now. This bonus alone is worth the cost of your Photoshop tutorials training...
BONUS ITEM #1 (instant access):
42 Photoshop Design + 60 Basic Photoshop Tutorials
on printable PDF format (613 pages). ($49 Value)
Below are 3 of the 42 design tutorials featured.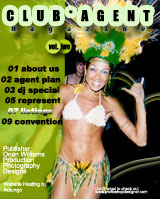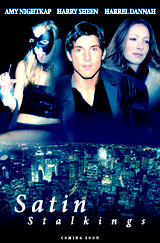 And for a limited time only you'll also receive the Photoshop Downloads Package.
This I will be taking offline every now and then so you must order NOW in order to guarantee you get all of these instantly available bonuses. I cannot guarantee they will be here tomorrow.
BONUS ITEM #2 (instant access):
All New Photoshop Downloads Package ($29 retail)
Including everything you see listed below on the .jpeg from my PhotoshopDownloads.com website
Tons of royalty-free Photoshop Downloads for you to use in your work including BONUS TUTORIALS & DOZENS OF SURPRISES.
All customers can ask me any technical or creative Photoshop question simply by email
"This is my first attempt at colorizing a B&W picture...Without the tutorials, I wouldn't have known where to start. I am new to using Photoshop and your tutorials have been a great help in understanding what I am doing. Thank you for the immense help..This is my second attempt at colorizing a B&W picture. The original is a picture of a co-workers husband that was taken in 1969...
...Your tutorials have been a great help. Orion, your tutorials are the best. They have been a great help and inspiration in learning to use Photoshop." Wade Kehner
I have ordered several different training programs for Adobe Photoshop and the tutorials you get from Orion Williams are far and above anything I have found so far. Really enjoy them and learning at the same time. Thanks Orion, -John P. Staples

"..I have received both the photo retouching and restoration DVDS' along with basic photoshop DVDS'. I have tried a few tutorials from the internet but, yours is far superior to any of the others i,ve tried. It is as good as having your own personal tutor over your shoulder. The constant tutorials you keep sending are absolutely brilliant. My photoshop knowledge has come on immensely thanks to you.

..." -Alan SALWARDS@aol.com

"So much appreciate it for your kind and quick respond on my request, I trust your profesional service and your high business reputation.
Please let me know too if there is any new thing comes up. I am excited always to learn new things. Once again thank you."
Regards

-Arry

greenleaf_photography@hotmail.com

"Your products are awesome. I am going through the photoshop tutorials over the last two weeks and they have substantially increased my knowledge of the application in a fraction of the time I expected. I look forward to receiving these additional DVDs next week." Best regards and happy holidays, -Chris Grillo, Florida

"Thank you for your prompt reply. I've been in business for over 40 years and know how important it is to give good service and I really appreciate it when I find someone who also believes in and practices this basic principle."
-Jack Stacey, Oregon
Here, I want you to take a look at this special video that will help explain it a little bit more. You must have Flash 7 in order to view it.
Move your Cursor over the bottom area to reveal the Flash Player Settings and to start or pause the video.
If it doesn't start playing after you press play, then you can download Flash 7 here.
I want to make this offer even more irresistible for you to make this small investment so you can really start fixing & restoring your damaged photos so read this exclusive guarantee on the Image Restoration and Curves Photoshop DVD tutorials training...
Take one full year to examine, exploit and put this training to work for you so you can spend your time getting work done in Photoshop. That's right. You can take 365 days to put the training to use and test it out for yourself. Learn and use as much as you can. I'm confident you'll NEVER want to send it back!
You must think it's at least worth twice what you paid for it or you can send it back for a full refund.

You can keep the PhotoshopDownloads & 102 add'l tutorial bonuses no matter what you decide.

RISK-FREE (that's a $78 value on their own)

But if you aren't satisfied for any reason, you don't like my use of colorful images, or it just doesn't live up to your expectations, you won't lose anything. Just return the Image Restoration Photoshop DVD and I'll refund your entire payment - right up to day # 365! That's how confident I am in the level and quality of this training and how much I know it's going to help you with Photoshop photo restoration 'uptime' and not 'downtime'. 100% One Year Satisfaction Guaranteed. It's a guaranteed gain no matter what you decide.
(will open in a separate window)
So click here or below to order now and start restoring your photos like a pro.
TutorialKey: Restoration & Curves DVD


- Over 2 hours of Intermediate Photoshop Training

- Sturdy DVD case for storing your Disc
- User-friendly menu based interface for easy navigation of Photoshop Restoration Tutorials

- International shipping available

- Taught by Adobe Certified Expert, Photoshop CS: Orion Williams

- When you order now you'll also instantly receive (free of charge) the downloadable PhotoshopDownloads Package via email (which includes 102 Tutorials Training Tutorials on PDF and hundreds of usable & royalty-free Photoshop downloads, Photoshop CS tips & more)

-1 Year Money Back guarantee

-Free updates & downloads via email

-All Photo Restoration tutorials on the websites
You will proceed to my Secured.com secure and safe shopping cart on PhotoshopDesigner.com where you will have the option of also including the Photoshop Retouching DVD training at a discount
or pay via Paypal Below
International Orders for Photoshop Restoration Only Click Below:
International Orders for both Restoration & Retouching @ $49.95 +s&h Only
Click Below:
Thanks for your time and best wishes! I look forward to making a HUGE impact in your own photo / image restoration effectiveness and Photoshop marketability. Start bringing those heirlooms and damaged images back to life and send them to me. I look forward to YOUR success story and want to see your work (so I can put it in my student gallery on PhotoshopDesign.NET)!
Feel free to ask me any questions: orion@photoshopdesigner.com I have over 200 positive testimonials that relate to the quality of my products and service. Best wishes on your photo restoration!
Sincerely,
Adobe Certified Expert, Photoshop CS2
p.s. Remember if you don't act now, you might continue to spend lots of ineffective time in Photoshop while you could be restoring images within 2 hours instead. This is your opportunity to really learn how to use basic to advanced Photoshop techniques to restore any of your ancient or precious, yet 'lacking' photos (and keep your bonuses no matter what). Don't pass Photoshop Restoration by.
p.p.s. You'll receive a much better understanding and application of making the most of those treasured photos so you can not just impress your friends and family but give them something to be proud (including yourself) so make that small investment today and reap the results for future generations to share in! Click here to order and get your bonuses while they last.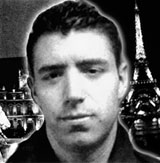 Alternative Ordering Methods:
Though the online ordering process IS secure,..You can phone 715-423-2161 between 10:30 a.m.-10:30 p.m. CST; this method you can pay via credit card over the phone where it will then be manually entered for approval within 10 minutes of hanging up the phone and you will be emailed further notification of your approval. Products will ship out within 3-48 hours.
You can also order via paypal, cashiers/bank cheque, money order, Western Union, business check, or personal check (u.s. only). Many international order requests have been received via these methods. The outsourcer will prepare your order immediately and then send it upon clearance of the funds. Make out payments to "Dreamcore Productions, Ltd." and use the address at the bottom (5140 Stoney Brook Rd. Rudolph, WI 54475)
You can even order via email if you have a credit card (though not recommended for transmittal of credit card data). Split the credit card information into 2 separate emails for more security to orion@photoshopdesigner.com with your order information and I will contact you.
If you are an institution or large corporation, you could order via purchase order. So please contact the email address or phone # below for details.
You can also print out the order page, fill in the blanks and
fax (or phone) your order to 715-423-2161
if you would prefer not to order online.